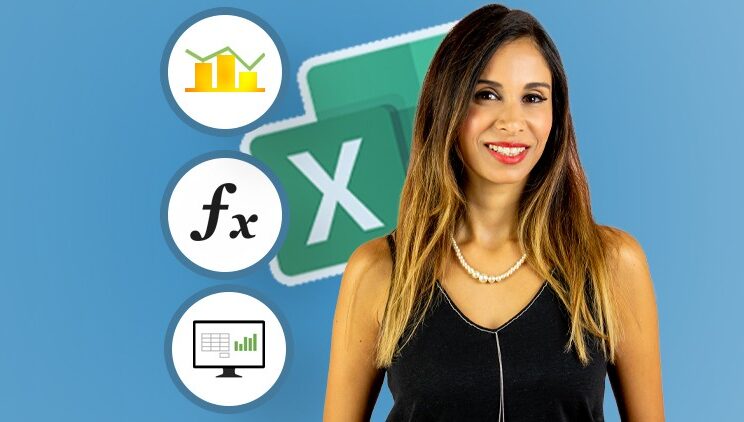 69,380 students enrolled
4.7 rating by 17,962 ratings students
Read Student Reviews about this Course!
Course Offered By: Udemy
Designed For: Beginner
Duration: 10.5 hours on-demand video
Course Price: Paid Course
Primary Language: English
Certificate: Certificate Available
Access: Full Lifetime Access
Guarantee: 30-Day Money-Back Guarantee
Buy Now ➤ to Unlock Your Full Potential
Instructor:
Leila Gharani
Course Description
Microsoft Excel Beginner to Professional. Includes Pivot Tables, Power Query, NEW Formulas… (Excel 365, 2019 & 2016)
What you'll learn
Master the ESSENTIAL Excel formulas and features to accelerate your career
Learn Excel from scratch or fill in the gaps to become immediately confident
Learn to use Pivot Tables, Pivot Charts, Slicers and Time Lines for Interactive Excel Reports
Hacks and hidden Excel features from a Microsoft MVP with 15+ years of Experience
Explore the potential of Power Query. You'll be surprised at what you achieve with a bit of Power Query knowledge.
Get lifetime access to a proven and state-of-the-art Excel course including challenges, quizzes & exercises
Learn what's new in Excel for Microsoft 365 and how these changes impact the way you use Excel
Updated to include the new FILTER, XLOOKUP, SORT & UNIQUE functions
Requirements
A computer or laptop with Windows (some techniques might not work on Mac)
Microsoft Excel 2016, Excel 2019 or Microsoft 365 (You mostly follow along with ALL Excel versions though – see course description for more details)
No prior Excel knowledge is needed.
Willingness to learn. Let's do this!
Description
Learn Excel from Scratch OR become more CONFIDENT.
*******************************
COURSE UPDATED to Include the BRAND NEW Excel Functions available in Microsoft 365 such as:
Excel's new XLOOKUP function
New FILTER function in Excel
SORT, SORTBY & UNIQUE functions
In addition to the above, we also cover:
Excel's new calculation engine and how older formulas are impacted
What the Hash (#) sign is
Compatibility and the at (@) sign you might see in your older files
The new errors such as #SPILL and #CALC
Data validation drop-down lists and dynamic array references
If you have Excel for Microsoft 365 and you'd like to discover how you can take advantage of these new functions, make sure you check out this new section.
*******************************
Looking to learn Microsoft Excel and improve your data analysis skills but don't know where to start?
OR, you've been using Microsoft Excel for a while but don't feel 100% confident?
There is so much information out there. What do you need to succeed at work?
I've picked out the Excel Essential skills a Data Analyst needs and packaged them in a structured course.
In fact, I collected the most common Excel problems faced by my clients. I added in my 15+ years' experience in finance and project management. I included all the hidden tips and tricks I came to learn as an Excel MVP and put it ALL in THIS course. I also made sure it covers the absolute Excel beginners.
These practical, real-world examples help you understand the full potential of each feature. You'll learn how to use Excel for quick and painless data analysis.
There are many helpful and time-saving Excel formulas and features. We tend to forget what these are if we don't use them. This Microsoft Excel Essentials Course will give you the practice you need to be able to apply the best solution for the task at hand. This way you can do more in less time.
________________________________________________
WHY TAKE THIS SPECIFIC EXCEL COURSE?
Yes. There are many Microsoft Excel courses out there teaching you the important Excel functions and features you need to master.
BUT, can you apply what you learnt to your own files?
Do you get enough practice and challenges to remember all the new information?
This course will get you confident and comfortable designing simple to complex spreadsheets. You'll go beyond Excel basics. As you go through the course, you'll be able to apply what you learnt immediately to your job.
You'll master new formulas and find better ways to setup your existing spreadsheets. Management loves efficiency.
In this course you'll solve dozens of practical real-world examples. They'll help you think outside the box so you can work smarter not harder.
_________________________________________________
IS THIS ONLINE EXCEL COURSE FOR BEGINNERS ONLY?
This Complete Excel Course is for two types of people:
Excel beginners, i.e. anyone looking to learn Excel from scratch
Excel intermediate and Excel advanced users who want to make sure their skills cover all the essentials. This includes many Excel tricks and hidden features few data analysts know of.
The Excel Essentials for the Real World Course covers ALL the fundamentals an Excel beginner needs to know. BUT it also fills in the gaps for Excel Intermediate and Advanced users. It's for corporate professionals who feel comfortable with Excel but not 100% confident.
This is more than an Excel Basics Course. It starts off easy and adds in tips and tricks many Excel advanced users don't know of.
________________________________________________
WHAT YOU'LL BE ABLE TO ACHIEVE
By the end of the course you'll be confident showcasing your new Excel skills at work, allowing you to:
Input data and navigate large spreadsheets
Apply Excel hacks to get your work done faster
Be able to choose the right Excel formula to automate your data analysis (Excel VLOOKUP, IF Function, ROUND and more)
Use hidden Excel features to transform messy data to proper data sets
Get answers from your data
Organize, clean and manage large data
Create compelling Excel reports by following the set of spreadsheet design principles
Turn messy data into helpful charts
Create interactive reports with Excel Pivot Tables, Pivot Charts, Slicers and Time Lines
Import and transform data with tools like Get & Transform (Power Query)
We start from Microsoft Excel basics to make sure we have the right fundamentals. We them move on to more advanced topics like Conditional Formatting, Excel Pivot Tables and Power Query. We cover important formulas like VLOOKUP, SUMIFS and nested IF Functions.
I don't just cover the purpose of a feature or formula but how you can take advantage of it using practical examples.
There are challenges and quizzes along the way to test your new Excel skills.
Your downloadable Excel Course Notes are available as a PDF file. These cover the most important points. Keep them handy and refer to them when you need to.
________________________________________________
WHAT ARE SOME EXCEL FEATURES AND FUNCTIONS I WILL LEARN IN THIS COURSE
You'll learn:
How to customize the Microsoft Excel interface so you so you can easily find the files and features you use often.
To apply formatting correctly for cleaner and more professional reports.
To use important features like drop-down lists in Excel and add data validation to the cells. This way you can restrict the type of data which can be input in each cell.
How to add comments and notes to cells.
Add time stamps to your reports.
Automate data entry with Auto-Fill and Flash-fill.
How to best navigate large data and large spreadsheets.
Useful Excel shortcuts for data entry and navigation.
How to Protect your Excel files and worksheets properly.
Excel's essential rule when it comes to writing formulas.
How to write basic to advanced Excel formulas – also formulas that reference other workbooks or other worksheets.
The most useful Excel functions like, COUNTIFS, COUNT, SUMIFS, AVERAGEIFS, VLOOKUP, IF and many more.
How to convert raw Excel data into information you can use to create reports on.
Excel features that will help you to organize and structure data so it makes analysis easier (Sort, Filter, Search & Replace Go to Special etc…)
Useful Excel printing options which you'll need specially before you send your file to your boss or save as PDF.
Design principles for optimal spreadsheets.
Excel charts that go beyond column and bar charts. You'll learn how to create a Pareto chart, Histogram, Treemap, Sunburst charts and more.
Excel Pivot Tables so you can quickly get insights from your data.
What Excel Power Query can do for you and how easy it is to combine data from different spreadsheets.
Use Power Query to transform messy data to tabular data.
_________________________________________________
WHY WOULD YOU CHOOSE TO LEARN EXCEL?
Excel in itself can do so much for your career. It's just one program but it's the one hiring managers are interested in.
That's why basic Excel skills is a mandatory requirement for most office-based professionals today.
Superior Microsoft Excel skills can get you a promotion. Some jobs require that to begin with.
_________________________________________________
WHICH VERSION OF EXCEL IS USED IN THE COURSE?
The course is applicable for Excel 2019, Excel 2016 & Excel for Microsoft 365. Generally all features and formulas with exception of a few Excel charts (Histogram, Pareto, Treemap and Sunburst charts) will work on Excel 2010 & Excel 2013. For the Power Query section, you'll have to install the free Excel Power Query add-in if you have Excel 2010 or Excel 2013 to be able to follow along. Other than this, the other features and formulas shown are valid for all Excel versions.
_________________________________________________
★★★★★ "Leila has an extraordinary way of breaking down complex formulas to understand how the mechanics actually work so you start to imagine on your own different combinations of formulas to solve complex questions." Lisa
★★★★★ "The instructor's explanations and referencing real-world situations are just what is needed to understand how these formulas can help you work smarter." Keith
★★★★★ "It was just what I needed! Definitely a great hands on way for someone with existing excel skills to pick up great "hacks" for excel." Teo
★★★★★ "Lots of tips and techniques. Already using them in my own work!" Alison
★★★★★ "I am really enjoying the course, Leila is a great instructor. Every lesson I learn something useful to improve my day to day with excel." Alisa
________________________________________________
There's a 100% money back guarantee. You have nothing to lose. Check out the lectures inside and see if you can apply the techniques to your work.
The course comes with lifetime access. Buy now. Watch anytime.
Who this course is for:
Business professionals looking to become more confident in Excel.
Absolute beginners who want a structured, engaging, fun and practical Excel course.
Excel users who want to discover & showcase new tips and tricks from Excel MVPs.
Students who want to make sure they have the Excel knowledge to succeed at their next job.
Data analysts looking to discover new tools to help them do more in less time.