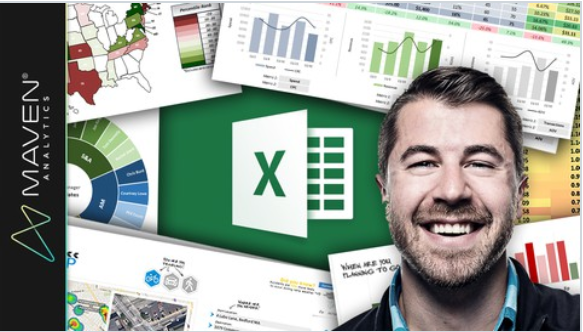 338,997 students enrolled
4.6 rating by 79,935 students
Read Student Reviews about this Course!
Course Offered By: Udemy
Designed For: Beginner
Duration: 9.5 hours on-demand video
Course Price: Paid Course
Primary Language: English
Certificate: Certificate Available
Access: Full Lifetime Access
Guarantee: 30-Day Money-Back Guarantee
Buy Now ➤ to Unlock Your Full Potential
Instructor:
Maven Analytics
Course Description
Master 75+ MS Excel formulas and learn data analysis with a top Microsoft Excel & business intelligence instructor.
What you'll learn
Learn how to THINK like Excel, and write powerful and dynamic Excel formulas from scratch
Automate, streamline, and completely revolutionize your workflow with Excel
Master unique tips & techniques that you won't find in ANY other course, guaranteed
Explore fun, interactive, and highly effective demos from a best-selling Excel instructor
Get LIFETIME access to project files, quizzes, homework exercises, and 1-on-1 expert support
Write advanced conditional, text, date and lookup functions, including XLOOKUP & Dynamic Arrays
Requirements
Microsoft Excel 2013+ or Office 365 (Some features may not be available in earlier versions)
Experience with Excel formulas is recommended, but not required (we'll review the fundamentals)
Description
It's time to show Excel who's boss. Whether you're starting from square one or aspiring to become an absolute Excel power user, you've come to the right place.
This course will give you a deep understanding of the advanced Excel formulas and functions that transform Excel from a basic spreadsheet program into a dynamic and powerful analytics tool.
While most Excel courses focus on simply what each formula does, I teach through hands-on, contextual examples designed to showcase why these formulas are awesome and how they can be applied in a number of ways. I will not train you to regurgitate functions and formula syntax; I will teach you how to THINK like Excel.
By the end of the course you'll be writing robust, elegant formulas from scratch, allowing you to:
Easily build dynamic tools & Excel dashboards to filter, display and analyze your data
Create your own formula-based Excel formatting rules
Join datasets from multiple sources with XLOOKUP, INDEX & MATCH functions
Manipulate dates, times, text, and arrays
Automate tedious and time-consuming tasks using cell formulas and functions in Excel (no VBA required!)
Pull real-time data from APIs directly into Excel (weather, stock quotes, directions, etc.)
We'll dive into a broad range of Excel formulas & functions, including:
Lookup/Reference functions
Statistical functions
Formula-based formatting
Date & Time functions
Logical operators
Dynamic Array formulas
Text functions
INDIRECT & HYPERLINK
Web scraping with WEBSERVICE & FILTERXML
I have a genuine passion for Excel, and as the founder of Maven Analytics I've been lucky enough to teach more than 1,000,000 students around the world. My teaching style is conversational, authentic and to the point, and I will always communicate complex concepts in a framework that is clear and easy to comprehend.
If you're looking for the ONE course with all of the advanced Excel formulas and functions that you need to know to become an absolute Excel rockstar, you've found it.
Who this course is for:
Excel users who want to learn how to write advanced formulas from scratch
Anyone hoping to expand their analytics skill set, work efficiently with data, and take their career to a new level
Students looking for an engaging, hands-on, and highly interactive approach to Excel analytics training
Excel users looking to build powerful analytical thinking and business intelligence skills
Anyone looking to pursue a career in analytics, data science or business intelligence